[su_youtube_advanced url="https://youtu.be/D1P5ONR6PUg" width="740″ autoplay="yes" rel="no"]
[su_quote]Simple, hearty and glased, chocolate cake is always a winner and is the perfect addition of any situation. It's always been something I prepare to brighten up an afternoon while my daughters are studying: I bake it, and I sprinkle it with some powdered sugar while it's still warm… but only after I've cut a slice for myself… because I prefer it just the way it is.
When I'm in the mood, sometimes I top it off with a dollop of whipped cream and powdered sugar; the contrast between the two is amazing, but always classic. Always a safe bet.[/su_quote]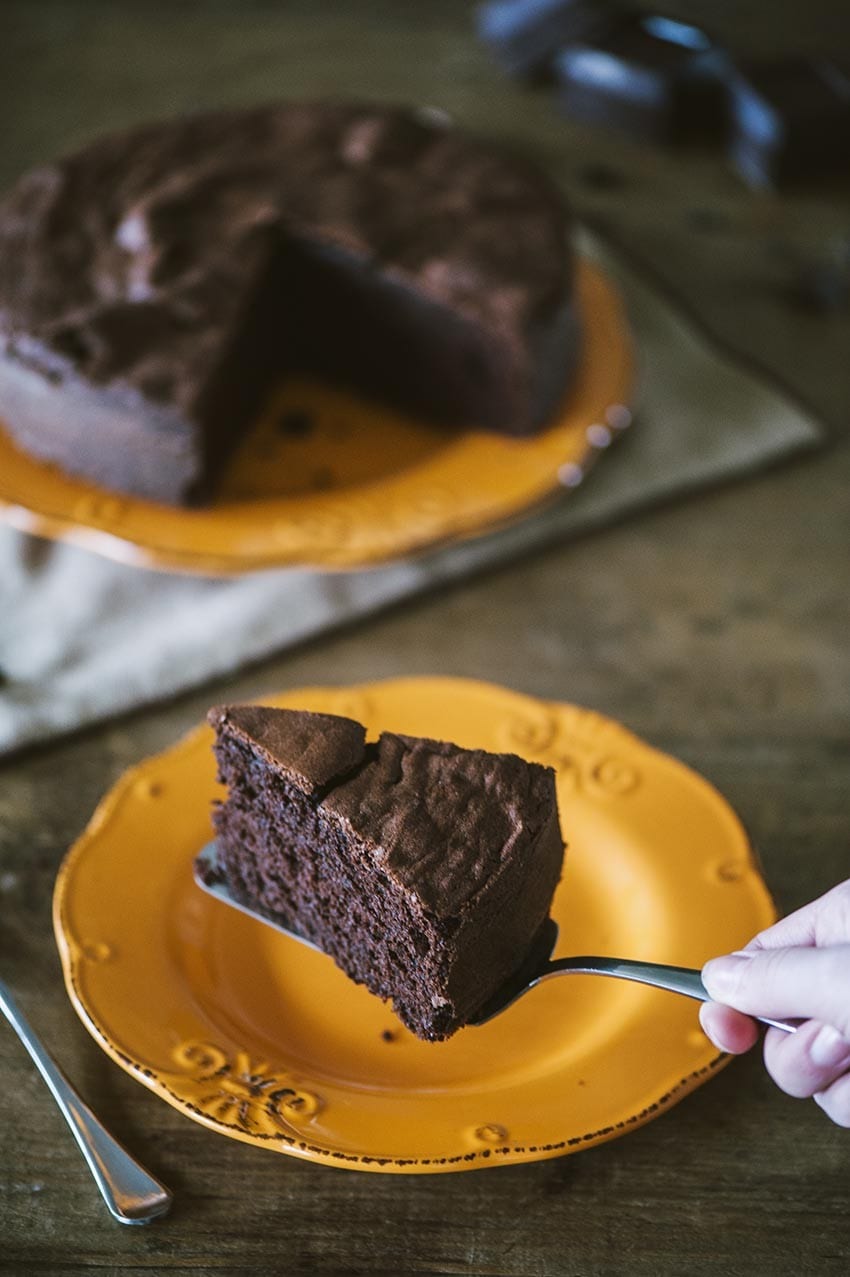 PREPARATION
: 60 min 
COOKING TIME
: 40 min. 
LEVEL OF DIFFICULTY
': medium.  
COST
: low.  
Ingredients
160 grams all-purpose flour
200 grams butter (at room temperature)
6 medium-sized eggs (at room temperature)
180 grams white sugar
120 grams dark chocolate
50 grams cocoa powder
16 grams powdered yeast
Pinch of salt
Instructions
Grate the chocolate melt it in a double-boiler or in a microwave; if you're using the double-boiler, it's best to place the chocolate bits in a small pot that can fit above a larger container of boiling water. Just keep in mind that the bottom of the pot must never touch the water underneath. Let the chocolate melt, stirring occasionally, and then set it aside to cool.
In a large bowl, beat the butter together with the sugar until the batter has become soft and creamy. Then, add the eggs one at a time while continuing to whip. Once the batter is more airy, add the cooled chocolate and the salt.
Gently sift the flour, the cocoa powder, and the baking powder into the bowl, and mix together using a wooden spoon until all the ingredients are mixed thoroughly.
Grease and flour a round baking pan (or simply cover it with oven paper) approximately 23 centimeters wide, and gently pour in the chocolate batter.
Preheat your oven at 170 degrees Celcious for approximately 50 minutes. Before removing your cake from the oven, use the stick-test to see whether it is done. Once it's cooked, remove the circle, and place it on a cooling rack; when it's cool, slice it up and serve it on a nice platter.
Sprinkling
Powdered sugar? Why not? I like the color of the cake itself, but many people prefer the contrast of colors between the cake and the sugar. It's up to you. Another quick idea to adorn your cake is to spread some apricot jam over the surface… and sprinkle some crushed hazelnuts or pistachios.
Note
*When using a microwave oven, place the chocolate in a microwave-safe ceramic, glass, or plastic bowl. Avoid using a metal bowl. Heat the chocolate gently, stirring at ten-second increments. Be careful to not overheat the chocolate, otherwise it could burn, rendering it useless. After your chocolate is melted, let it cool.
**Prick the center of your cake with a toothpick; take it out to make sure it's dry, and that the batter has baked, otherwise leave it in for another ten minutes and try again.